What are holds?
Holds can be placed onto students' accounts for various reasons.  Some serve simply as identifiers that show students belong to specific groups and do not impact students in any way (e.g., remoter learners), while others prompt action and may prevent students from registering, ordering transcripts, and receiving diplomas (e.g., academic advising).
Students can view their holds from their CaneLink Student Center using the following steps: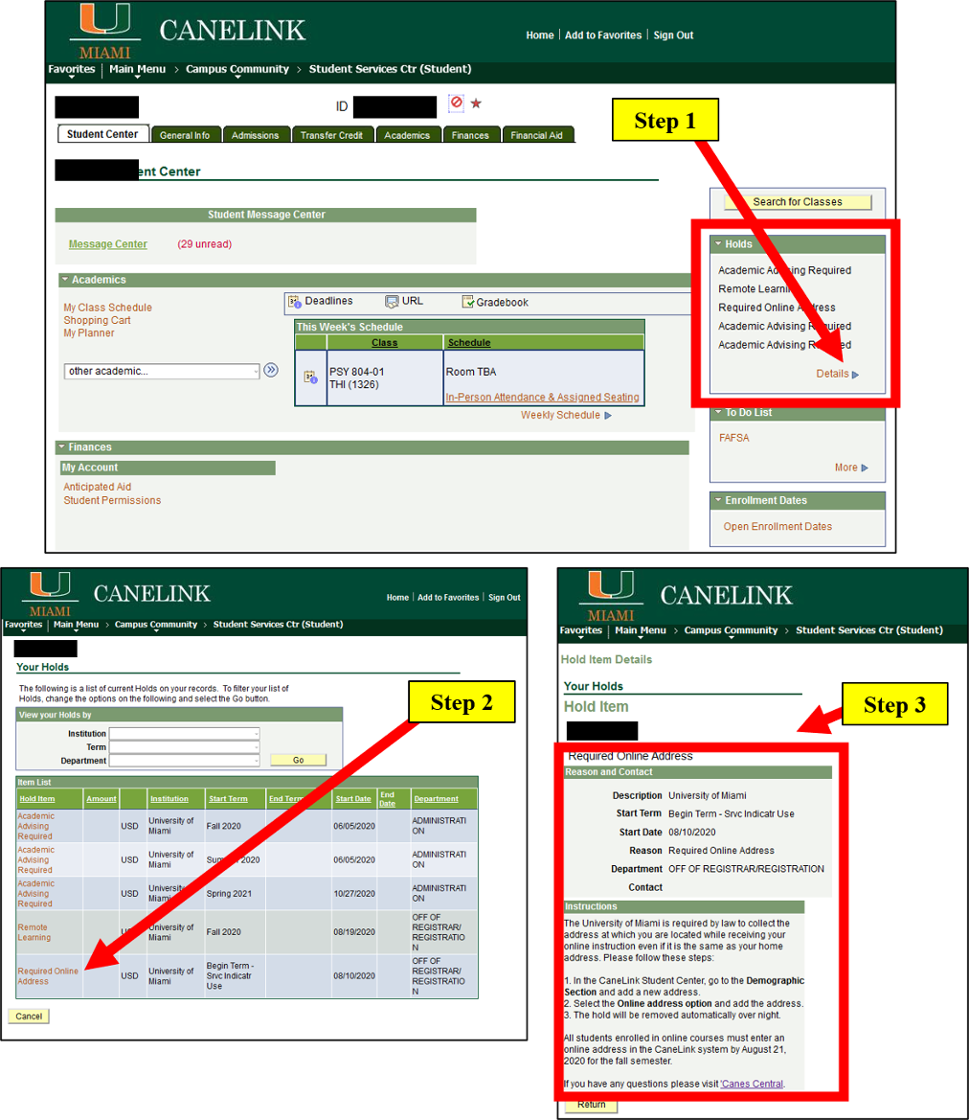 Learn more about some of the common holds listed below, review your account to see if you currently have any holds, and take the specified action today to address them.
What holds impact registration?
Below is a list of common holds that prevent registration and the steps students must take to resolve them:
Hold

 How do I resolve it? 

Academic Advising Required

 Please see your assigned Academic Advisor in order to plan your schedule.  Reach out to your advisor(s) listed in your CaneLink Student Center and/or consult the Academic Advising links available on our website. 

Academic Dean

(Graduate Student Sexual Assault Prevention Module)

 A hold has been placed on your account because you have not completed the required Sexual Assault Prevention for Graduate Students training through Everfi by the established deadline.  Please complete the training and then email the Graduate School at graduateschool@miami.edu, providing your full name and C#, in order for the hold to be lifted. The hold is not automatically lifted once you complete the training. You must notify the Graduate School. 

Academic Dean

(other types)

 Review the contents of the hold on your CaneLink Student Center and take the appropriate action. 

Incorrect of Missing SSN

 Your SSN/TIN on file is incorrect or missing and needs to be updated.  Please complete the "Social Security / Tax Identification Number Update Form" online to process this update.  This form is accessible at www.canescentral.miami.edu/forms/.  Once you complete this form, the information will be processed and, if the information you submitted was correct, this hold will be removed within 3 business days.  You will receive an email notification once your submission has been processed. If the SSN Hold is still on your record after having received the processed email, it means your submission was declined.  Please log back onto the SSN submission portal to see the reason for the decline and how to rectify it. 

Local Address Verification

 It is required that you update your contact information, including your local address and mobile phone number, in CaneLink as soon as possible.  This ensures that you receive timely messages from the University related to contact tracing efforts, hurricane evacuations, and other emergencies. If you have recently updated your local address in CaneLink, confirmation is still required. Once you confirm or update/add your local address, the enrollment hold on record will be released overnight. Visit the Confirm Local Address page and follow the steps below.  For a visual guide, click here. If your local address is correct, select "Yes, this is my current local address."  You will then see a confirmation message that states, "Thank you for confirming your address." If your local address is incorrect, or if your local address is not currently listed, select "Update or add current local address."  You will be directed to the CaneLink addresses page, where you can add/edit your current local address. 

Past Due

 Click on the "Payments/Account Summary" link from your CaneLink Student Center to review your account balance.  You can see a breakdown of your charges by clicking on "Account Activity" and "See Details" for the appropriate semester.  This balance must be paid in full for the hold to be removed.  Once the balance is paid, the hold will be removed automatically within 1-2 hours.  To learn more about payment options, check out the "Paying Your Bill" section of our website at www.canescentral.miami.edu/billing/.  

Required Online Address

 The University of Miami is required by law to collect the address at which you are located while receiving your online instruction even if it is the same as your home address. Please follow these steps:

1. In the CaneLink Student Center, go to the Demographic Section and add a new address.

2. Select the Online address option and add the address.

3. The hold will be removed automatically over night.

All students enrolled in online courses must enter an online address in the CaneLink system by August 21, 2020 for the fall semester. 
Do other holds impact registration?
Maybe.
Maybe not.
Check!